Vending and Solicitation Services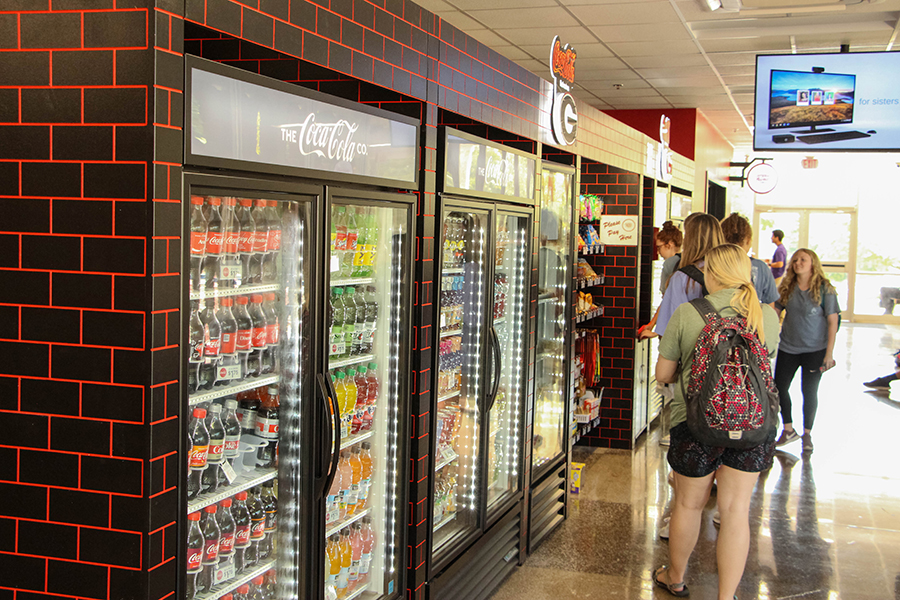 Vending and Solicitation Services is provided through a contract with Coca-Cola Enterprises, Inc. There are more than 500 vending machines located in over 150 buildings on the UGA campus, including the Health Sciences Campus. Vending Services oversees the distribution of newspapers, magazines, and student papers in many of the racks on campus.
Services Offered:
Snack Machines
Coke Machines
Solicitation Requests
Newspaper Distribution
Please use the Vending Feedback Form to report issues.
For questions about Vending and Solicitation Services, please contact solicitation@uga.edu.
For refunds using Paw Points, please call (706) 542-1256 or email dining@uga.edu. For cash refunds, please visit the UGA Bookstore in Tate Plaza. For all other forms of payment refunds (credit card, debit card, Apple Pay, Google Pay) please call 1-800-647-2653 for assistance with Coke machines and 1-888-561-4748 for snack and other vending machines.
---

Campus Market Express
Operated by UGA Vending Services, Campus Market Express micro-markets are on the leading-edge of today's food service trends for colleges and universities across the nation. With its self-serve technology, the location is able to continuously stay open allowing individuals in the building to purchase food anytime the building is open. All locations accept Paw Points, credit and debit cards. Paw Points may be used on food and beverage items only.
Current Campus Market Express locations include:
Aderhold Hall (110 Carlton St.)
Biological Sciences Building (120 Cedar St.)
Caldwell Hall (

302 Herty Dr.)

Center for Molecular Medicine (

325 Riverbend Rd.)

College of Veterinary Medicine - Main Campus (

501 D. W. Brooks Dr.)

Hugh Hodgson School of Music (

250 River Rd.)

Russell Hall — Health Sciences Campus (1425 Prince Ave.)
UGA Golf Course E.B. Smith Clubhouse (

2600 Riverbend Rd.)
Our new micro-markets are designed to be able to carry a varied selection of convenience items including:
More than 100 Coca Cola beverage varieties
Grab-and-go sandwiches, salads, and wraps
Large variety of snacks
Fresh custom-brewed coffee
---