Winter Engagement
---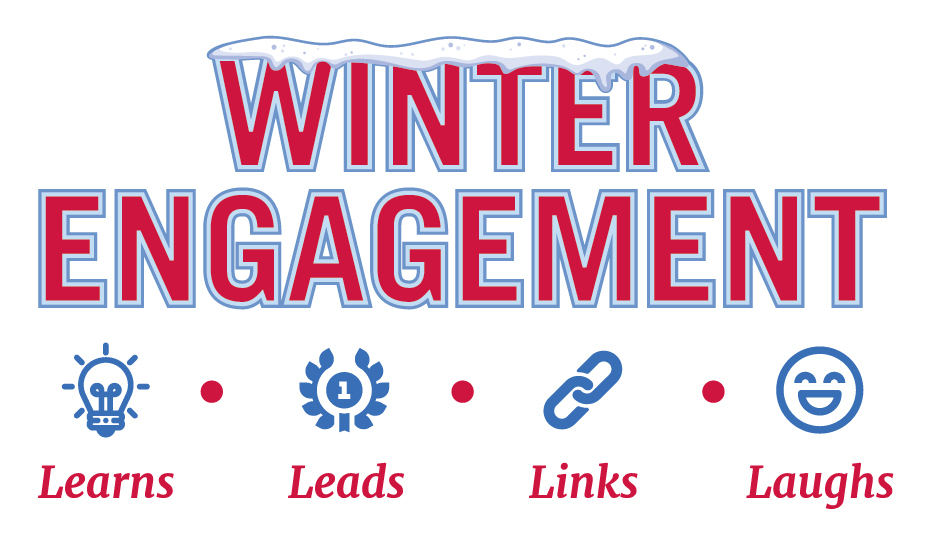 Auxiliary Services is proud to announce its Winter Engagement Initiative. Winter Engagement builds on the Auxiliary Connections foundation and offers members of the Auxiliary family dynamic opportunities for continued learning, growth and connection. Winter Engagement offers professional development opportunities through Auxiliary Learns (individual and unit-based development), Auxiliary Leads (management, supervisory, and leadership development), Auxiliary Laughs (fantastic, fun activities), and Auxiliary Links (behind the scenes hands-on learning and leadership opportunities with Auxiliary units). Through a series of ongoing learning and engagement activities, Auxiliary Services employees will find an array of opportunities to suit their personal and professional needs and interests.
People First remains at the forefront of our organizational culture, and the winter engagement platform expands opportunities to hear from and interact with all Auxiliary employees. Together, we build awareness, create new knowledge, develop and enhance skills, and enable our employees to Think Bigger and reach their full potential. This will be accomplished via a number of formats including:
Multi-tiered (department-specific) learning sessions
Employee recognition and appreciation events
Employee assessments and consultations
Career Conversations
A confidential feedback portal for all employees
AUX-Media Connect (web and social media based engagement events)
We are glad to kickoff this initiative on December 1, 2020. Subsequent seasonal engagements (Spring, Summer, and Fall) will be implemented at the beginning of each season.
---
February 8 - 24, 2021
Winter Enhancement Schedule:
Sessions: These meetings and classes are open video sessions for our entire Auxiliary staff. Click the links below for each session.
(see details of each Learning Session below the chart)
Date

Session
Time
Duration
Session Link
Monday February 8

Session:

Evaluation Refresher

11:00 a.m.
1.5 hours
Join the session here
Monday February 8

Session:

Career Conversations with Human Resources

1:00 p.m.
2 hours
Join the session here
Wednesday February 10

Session:

Career Conversations with Human Resources

10:00 a.m.
2 hours
Join the session here
Monday February 15

Session:

Evaluation Refresher

10:00 a.m.
1.5 hours
Join the session here
Monday February 15

Session:

Career Conversations with Human Resources

1:00 p.m.
2 hours
Join the session here
Wednesday February 17

Session:

Career Conversations with Human Resources

10:00 a.m.
2 hours
Join the session here
Wednesday February 17

Session:

Evaluation Refresher

2:00 p.m.
1.5 hours
Join the session here
Monday February 22

Session:

Evaluation Refresher

11:00 a.m.
1.5 hours
Join the session here
Monday February 22

Session:

Career Conversations with Human Resources

1:00 p.m.
2 hours
Join the session here
Wednesday February 24

Session:

Career Conversations with Human Resources

10:00 a.m.
2 hours
Join the session here
Wednesday
February 24

Session:

Evaluation Refresher

2:00 p.m.
1.5 hours
Join the session here
---
Session Details